In the current enterprise environment, an issue with an application or the infrastructure underpinning it can spell disaster. Any downtime can be incredibly costly, not only in terms of lost productivity and revenue, but also when it comes to the company's overall reputation among consumers.
According to an IDC report, unplanned application downtime now costs the average Fortune 1000 company $1.25 billion to $2.5 billion each year. This includes costs of $100,000 per hour for infrastructure failure and $500,000 to $1 million every hour a critical application fails.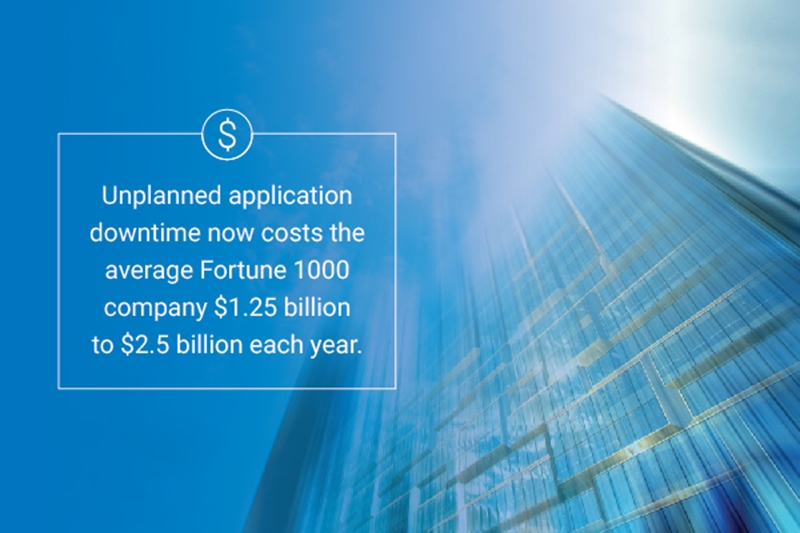 These costs can be enough to overwhelm an organization, causing it to close its doors if the cost of downtime reaches an operational tipping point. But, thankfully, all hope isn't lost – Galileo's unique cloud-based Infrastructure Performance Monitoring tool enables businesses to shift perspective, moving from simply reacting to outages as the occur to taking a proactive, predictive approach to infrastructure and application performance before downtime occurs.
Reactive approaches fall short
Many organizations today operate in a reactive fashion when it comes to their IT performance. In this circumstance, IT staff members just wait until a problem emerges within the company infrastructure, at which point they scramble to patch the issue. By this time, an application may already be providing incredibly slow performance, or may be down and inaccessible to employees altogether.
A reactive approach can cause numerous issues, including extended performance complications or downtime. What's more, these problems only persist as the IT team manually searches through the company's servers, storage systems and other hardware elements or virtual environments to pinpoint the source of the issue. For organizations where applications and infrastructure represent the foundation for the business's most mission-critical processes, any delay in solving performance issues may prove extremely harmful to the company and its customers.
Shifting the perspective: Taking a predictive stance
Overall, a reactive approach to IT performance simply falls short and modern enterprises cannot afford to operate in such a short-sighted way. Instead, it's time for IT teams to adopt technology that will allow them to utilize a more proactive strategy, maintaining visibility into operation performance at all times and identifying potential issues before they ever impact the company's critical applications.
The best way to support the shift to a predictive approach is with Galileo's Infrastructure Performance Monitoring tool, which continually analyzes your company's entire infrastructure, including the Storage Area Network, physical and virtual servers. Your IT team always has a bird's eye view of your critical infrastructure, as well as analytical information to help you make the best decisions about your infrastructure performance.
Thanks to Galileo's "single pane of glass" interface, you and your IT team can easily view important metrics about the performance of your most critical IT assets. Important factors including computing efficiency, power utilization and overall efficiency are all just a single click away.
Best of all, Galileo's Predictive Analytics Dashboard enables you to create custom analytics thresholds unique to your IT environment. These are the optimal way to support a predictive approach to IT performance, ensuring that should an individual server, storage system or SAN approach a threshold, your IT administrators are notified immediately. Any issues can be pinpointed and addressed before they ever become large-scale problems.
Galileo's Infrastructure Performance Monitoring tool allows you to leave a problematic reactive approach behind, and instead adopt a more efficient predictive strategy. To find out more and start your free trial, contact us today.